HRCH SureFire Weego Zoom Zoom WC MH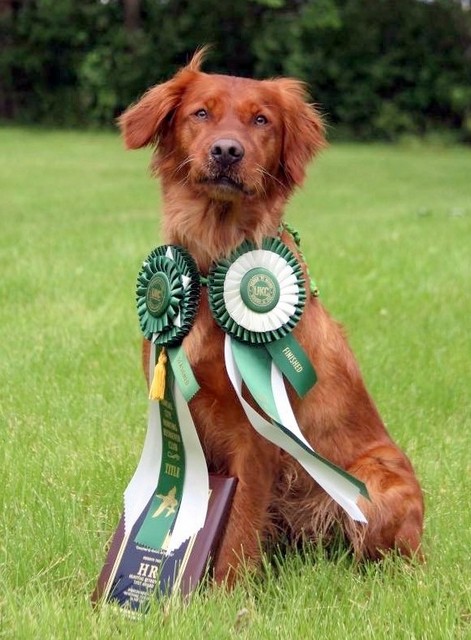 WEEGO
HRCH Surefire Weego Zoom Zoom MH WC (8/7/2016-)
| | |
| --- | --- |
| Call name: | "Weego" |
| Gender: | F |
| Country of origin: | USA |
| Registration: | AKC SR94707301 |
| Breeder: | Beverly Weaver |
| Owner: | Beverly Weaver |
| Hip clearance: | OFA GR-123370G24F-VPI |
| Eye clearance: | OFA GR-EYE16125/36F-VPI (8/19) |
| Heart clearance: | OFA GR-ACA4945/36F-VPI |
| Elbow clearance: | OFA GR-EL43002F24-VPI |
| PRA status: | Clear (unrecognized registry 133464) |
Pedigree:
| | |
| --- | --- |
| HRCH Surefire Weego Zoom Zoom MH WC | |
Weego is a wonderful girl whose coat is a very dark red golden. Her field coat is smooth and flat, virtually repelling burrs of all shapes and sizes, which makes clean-up after field work easy. Weego is 21 inches at the shoulders and weighs in at 56 pounds, sporting a nice athletic body.
Weego has a passion for work. She loves to retrieve and has a very high prey drive. She loves the water and has a great water entry. Marking is one of her strong suites. She takes after her mother.
Weego has been a breeze to train, running in AKC Hunt Tests and HRC. She has her Master and her Finished titles, both of which were five tests/five wins. She has qualified for the Master Nationals and the Amateur. She needs two more passes for 2022. Her litter mates are all very talented dogs, titled in field, obedience and agility.
Weego has that Golden personality which makes her great house dog who loves to cuddle and she is great with other dogs, too.