HR SureFire WeeBee Quick SH WCX had a litter of nine beautiful pups sired by CT, HRCH, U-UD Brassfire'sYet Another Chance UD RE MH MX MXJ WCX on January 19th, 2020. Five Boys and Four Girls * * * This Is A PERFORMANCE litter - They Need Jobs In - Hunting - Obedience - Agility - Field - Tracking and/or Therapy Homes
Quickin is short and compact with a dark red wash and wear short field coat. She is very biddable, and comes from blood lines with good longevity. She has her Senior Hunter and HR in UKC. Along with her WCX, she is working on her Master Title. She is good in the house and with other dogs. Quickin has posed for a number of print ads – she loves to model. Quickin sits well in the holding blinds, and she does love her birds.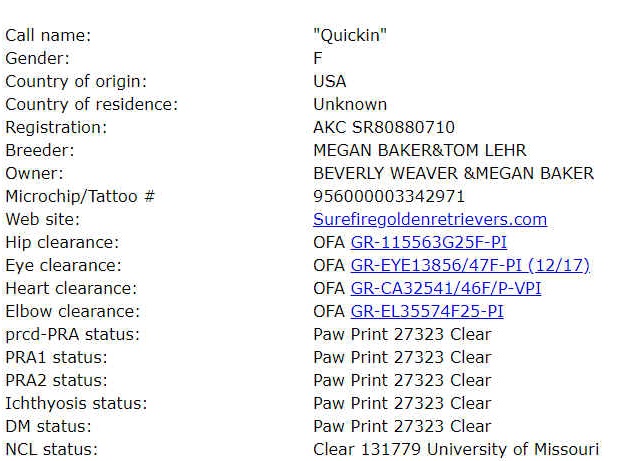 Chase - Quickin Pedigree http://k9data.com/pedigree.asp?ID=1017523
Chase Pedigree http://www.k9data.com/pedigree.asp?ID=779068
Chase is the easiest to train dog you can imagine. He wants to please, takes correction well and tries really hard to do well. He's an excellent marker and blind running dog. If he has a good picture, he's been lining over 50% of his blinds in Master and Finished. He had his Finished last year at 2 ½, and finished the year with 4 Master legs, finished the Master in MN in May 2019
***************************************************************************************
My SureFire Goldens are dressed in a field coat. They drip dry easily. They range in coat color from dark gold to red. For most they are high energy dogs that can work with lots of enthusiasm all day. And for the most part they come inside and settle right down. They are great house dogs. My SureFire Goldens are very intelligent, biddable, athletic and have proven themselves to have wonderful work ethics. I look for hunting and competition, performance homes but for sure a few will go to very active pet homes. When looking at pricing, my price represents not only the quality of the Sire & Dam, but all the effort that I put into researching pedigrees, of putting the right two dogs together to create the best liter I can, as well as the time, travel and associated many expenses involved in a litter until they go home. And there is the time spent in analyzing the puppies and then matching each puppy with the right new owner. As a breeder, I try hard to reduce the risk of genetic defects. But we should all know it is Not possible to avoid all genetic problems in breeding. When my pups leave my home they leave only after being vet checked and with their first set of vaccinations. They have received individual stimulation from birth and are well socialized in a home setting and outdoors and have been introduced to birds. When the weather permits all my puppies get introduced to water and learn how to swim and they have all been introduced to crate training and house breaking.
If you are interested in this litter, Please fill out and forward the application found on
The Puppy Purchase Application page and please include your email address.
Serious Inquiries Only Please.
Puppy Purchase Application Page